The American company Hyperion has unveiled the XP-1 supercar on hydrogen fuel cells with a proton exchange membrane (Proton Exchange Membrane, PEM), capable of speeds up to 221 mph (356 km / h).
The XP-1 is capable of accelerating from 0 to 60 mph (97 km / h) in less than 2.2 seconds. Its range is 1,016 miles (1,635 km), and it takes less than 5 minutes to recharge the hydrogen cells.
In a new car, there is probably not much interior space, since the hydrogen supply for this range does not add much weight, but takes up significant volume.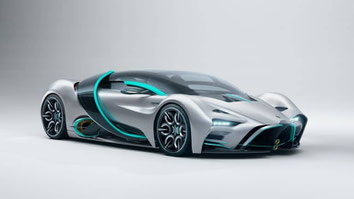 This is why the current fuel cell versions of the Honda Clarity Fuel Cell, Hyundai Nexo and Toyota Mirai fuel cell range do not exceed 400 miles (644 km).
The XP-1 features an adjustable double wishbone independent suspension made from what the company says is an ultra-light aerospace aluminum alloy, and the ride height is hydraulically adjustable.
The fuel cells are connected to electric motors that drive all four wheels.
Hyperion said it plans to produce about 300 XP-1 units, which will begin serial production in early 2022.