Arcfox Lite is unusual two-seater car in width (1676 mm), height (1492 mm) and wheelbase (1870 mm) almost repeats the well-known smart fortwo of the current generation.
But due to the pronounced protrusions of the hood and trunk, Arcfox Lite is noticeably longer than Smart: 2986 instead of 2695 mm.
A feature of the car is matrix displays between the headlights and taillights, on which the owner can display any phrase in the form of a static inscription or a creeping line.
The two-seater body is an aluminum frame with composite panels suspended from above. Inside, there are heated leather seats, climate control and an unusual dashboard with three displays across the entire width.
The screen in front of the driver displays the instruments, in the center - the control of the minor functions of the car, and in front of the passenger - a media system with a headphone jack.
The equipment includes a rear view camera, car park and blind spot monitoring system.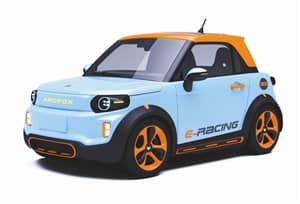 Arcfox Lite is a rear wheel drive electric vehicle, engine with a capacity of 49 hp can accelerate a car with a curb weight of 895 kg to 110 km / h.
A traction battery with a capacity of 17.1 kWh should be enough for 200 km of run, you can charge it from a household outlet, and if you connect to a fast terminal, charging up to 80% will take half an hour.
Small-scale production has already begun, but the stylish Chinese electric car came out by no means cheap. Excluding subsidies, prices start at $ 21,000, and for the top version, which differs only in equipment and color, they ask for almost $ 25,000.